Welcome to Irish Sport Equine
We breed Connemara, Irish Draught and Half-bred sport horses and cobs. We also purchase some of the best young Irish horses and cobs and along with our own, school and produce them to make Hunters, Trekking Cobs, Riding School Horses, Show jumpers and Competition Irish Sport Horses.
Why Choose Irish Sport Equine?
All horses produced by us have a wide range of experience. We school all our horses over x-country fences, ride them in traffic, hack out in groups both in fields and on the roads, as well as riding out alone.  During the hunting season our horses are hunted regularly with the Laois Hunt.  Here at Irish Sport Equine, we value our reputation very highly!
We supply good quality, genuine horses.

We know our horses' personality before they're sold and we will do our upmost to match our horses with a suitable owner.

All our horses are schooled on the flat, over coloured poles, and cross- country fences, as well as, on the road.

Our horses are accustomed to traffic as we live on a farm where horses see a variety of farm machinery.

Our horses are groomed, handled and ridden daily.

We have a proven track record for selling quality Irish horses worldwide.

We offer an after sales service, where we will exchange the horse within 14 days, if you are not satisfied.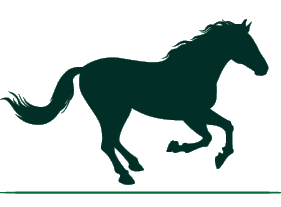 Irish Sport Horses
We breed Connemara, Irish Draught and Half-bred sport horses and cobs. We also purchase some of the best young Irish horses and cobs and along with our own, school and produce them to make Hunters, Trekking Cobs, Riding School Horses, Show jumpers and Competition Irish Sport Horses.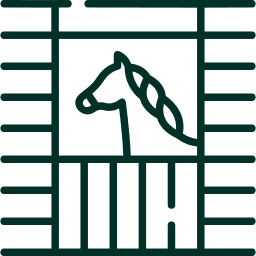 Our Facilities
Our training yard is equipped with everything necessary to give our horses the very best start in life, including dedicated staff and superb riders. Our commitment is to produce confident and capable competition Irish sport horses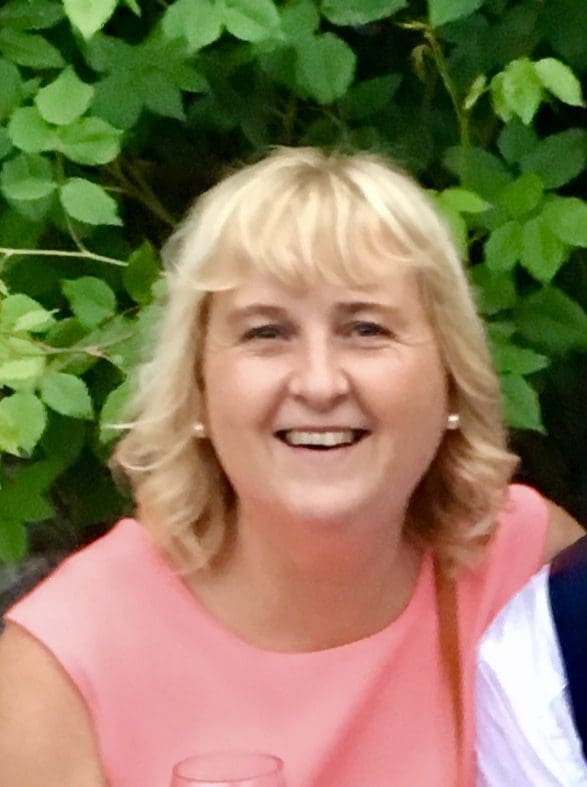 Gerty Tynan
Gerty was brought up on a farm with horses, cattle and sheep. Her Dad was a horse breeder and so she understood the skills involved in producing young horses and matching them to clients from a young age.  Gerty has been involved with Irish Sport Horses all her life.
Transport
Bramhams of Buckingham and Gillies Transport deliver our horses to the UK every week or 10 days depending on sales.
John Brophy Bloodstock Transport International Limited delivers our horses to France, Belgium. Netherlands, Germany, Italy, Poland, Austria and Switzerland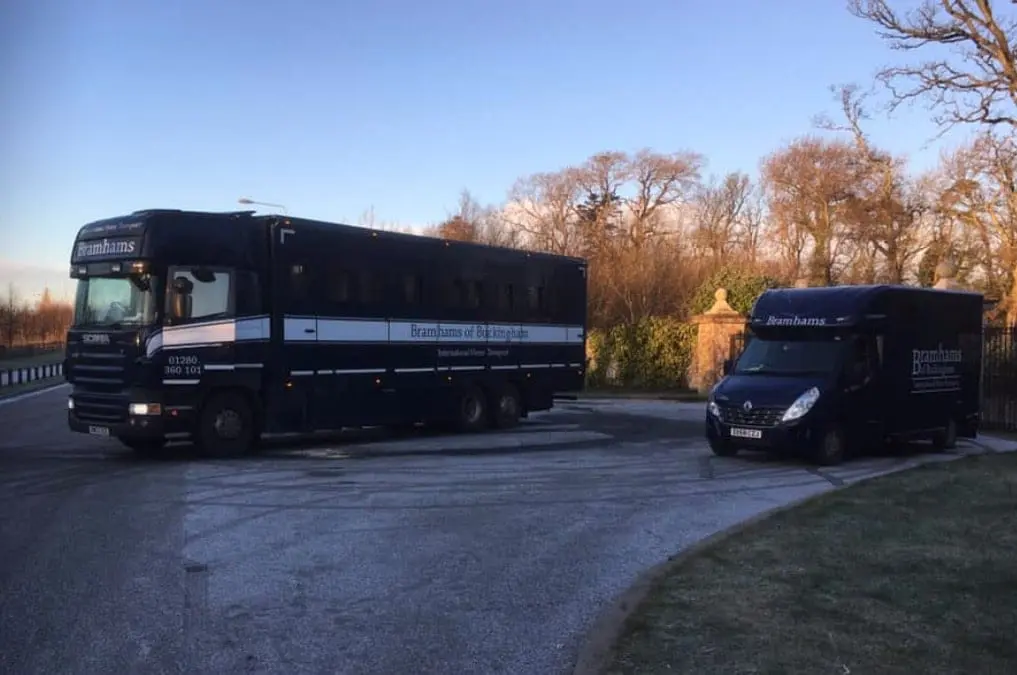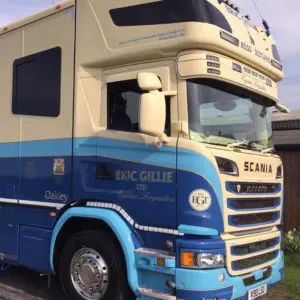 John Brophy Bloodstock Transport International Limited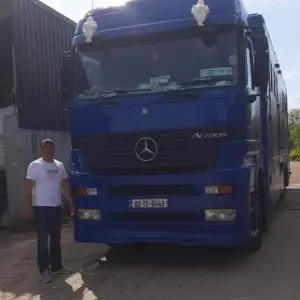 John Brophy : 00353 86 0878577
Theresa Brophy: 00353 87 4303373
Email: [email protected]
Delighted with our gorgeous Connemara pony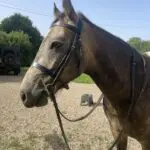 We bought our new pony Phoenix (previously Cooper) unseen from Gerty at the end of July after discussing our priorities and requirements with her. Taking on such a baby is of course a big decision and commitment and maybe not for everyone but he is perfect for us and doing brilliantly. He is extremely gentle and willing and we are really enjoying getting him out and about. We have followed Gerty's advice and ride him almost every day to keep him nice and busy and our efforts are being rewarded with a sensible and confident youngster who is taking everything in his stride. Thanks so much to Gerty and her team.
September 2023
Couldn't be happier with Henry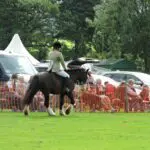 Buying a horse unseen from Ireland is not something I had intended on doing, however after searching the uk and not finding a suitable horse I took the plunge.
Having found the horse on the site and spoken with Gerty I decided to go for it.
Henry age 4 arrived and I could not be happier. he is as described and is a lovely horse with a kind temperament who has has a great start in life and arrived with manners and well schooled.
I am thrilled with him and look forward to adventures to come.
I'm no spring chicken (57) and having lost my last horse after 16 years I was nervous of getting a youngster.But I couldn't be happier, while he is still young and learning' he is eager to please and a real happy little horse who is a pleasure to own. he is totally as described.
After only 4 weeks he even attended a local show and was unfazed by all the goings on
Thank you to Gerty and the team
August 2023
A beautiful Connemara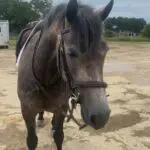 We bought a lovely horse from Gerty and although he was a very good horse not right for us so I had to ask Gerty for an exchange. I was so nervous to buy unseen and then when the first horse wasn't quite right so worried about sending it back. I needn't of worried Gerty was really professional and nice and made the return process simple and also her transporter (Bramhams) all very supportive and horse welfare always high on the agenda. We then had a family crisis and so Gerty allowed us to choose our replacement to work around this. We named our new horse Bluebell and she is gorgeous to look at and in temperament and today we took her to her first show where she was immaculately behaved. Yes we put in alot of effort to prepare her but at the end of the day Gerty provided a super little horse. We hope to train her for eventing but as she has only just turned 4 this year will be getting the training right first. So I just wanted to say Gerty is a true Professional and its been a pleasure to buy a horse from her.
July 2023
Wonderful William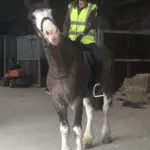 William (Billy) has now been with me for three weeks and I am so in love with him already! He is exactly the lovely, gentle boy that Gerty described. We are having lots of fun getting to know each other and he is already a firm favourite on the yard with his nice manners and happy disposition. He's clearly has a great start to his education and I am so happy to have found him. He has taken everything in his stride.
Thank you Gerty 🙂
July 2023
The best decision
We bought Malibu, now 'Mali' in July '22, just short of one year ago. It was a risk buying her unseen and the risk has paid off! She is a super star. The wide range of videos provided and additional video requested were no trouble at all. I just want to say a huge thank you. She has turned out to be the perfect share for me and my daughter. I'm continuing her education and she's teaching my daughter, it's working out perfectly!
June 2023
The Sweetest Angel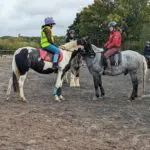 What can I say , I bought a 3 year old sports horse called "Angel" from videos and photos, after losing my big coloured just over a month ago I was jubvious , my husband actually found her and she seemed to appear the day I received my ashes back from my special horse. I was jubvious about buying a 3 year old especially not seeing her in the flesh and relying on her description from Gertie , Angel really is the " Angel" she was described as she really is the kindest ,most willing mare and is everything Gerty described her to be and more , I am excited for our future together . Gerty was great in answering all my questions before the sale and after she arrived , Angel also arrived in amazing condition and a lovely head collar , I would definitely recommend Gerty to anyone !
December 2022
Another cracking horse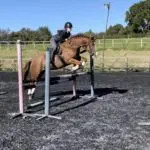 My 3rd horse from Gerty. I told her what we were after and we were lucky enough to get Fletcher . Honest trustworthy seller whose videos are great. Horses are given a great start and all arrived happy and healthy ! Transporters are super and keep you in touch all the way .
If I had money for an other …. 🤩
December 2022
Honest & Trustworthy seller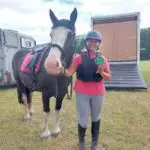 I brought Ritchard (now Walter) completely unseen in what many thought was complete madness, including myself at times! I had initially enquired about another of Gerty's horses which had already sold but after telling Gerty what I was looking for she said that she had exactly what I was looking for & the advert would be on the website the following day. Well she certainly wasn't wrong! I called a Gerty that evening & after a further chat about him put down a deposit. Gerty was extremely helpful sending me additional videos & arranging vetting & transport, she even ensured he had a new set of shoes. Living close to the port Richard was delivered to me in the early hours of the morning & had to be dropped off in the village with the lorry being to big to fit down the lane & despite his travel & being in a unfamiliar place he walked to the yard like a lamb! He is the sweetest most honest horse for his age. We've hacked on busy main roads & up on open mountain & he hasn't put a good wrong. We did our first pleasure ride & as you can tell from the pictures I couldn't be happier! I can't recommended Irish Sport Equine enough.
August  30/8/22
Trustworthy and accurate sale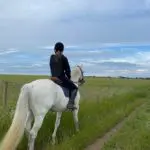 We were lucky enough to buy Freddy a couple of weeks ago. I was very nervous about buying unseen, especially as my daughter had had such a tough time with her previous pony - it was imperative that we got this right. I spoke to Gerty and explained our situation and her response was 'if your daughter can't ride this horse, I'm not sure there's a horse in the world she could ride - he is that good!'. After watching the videos and asking a lot of questions, we took the plunge and Freddy arrived a week later at our yard in Scotland. He came off the lorry, had a sniff around his field, had a roll and then proceeded to settle in as if he'd never been anywhere else. On Gerty's advice we tacked him up and my daughter took him out on a hack the next day. He was hoof-perfect and the enormous grin on my daughter's face said it all. We've had a couple of lessons and our instructor thinks he is incredible and we are now just about to load him up and take him to PC Camp. He is, without a doubt, one of the best schooled, most gentle souls and Gerty was right in the advert - one in a million. We feel incredibly lucky to have him. We have had a very positive experience with Gerty and team and Freddy was exactly as she described. I'm very much hoping we don't have to look for another pony again but, if we did, I wouldn't hesitate to use Irish Sport Equine again.
June 2022
100% Recommend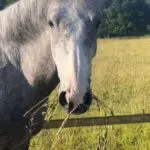 I bought my 4yr old Connemara from Gerty only last week and he has been a total dream. I was very cautious about buying unseen but as soon as I spoke to Gerty my mind was put at rest . Amazing service, all questions answered and couldn't be more patient with me. My boy is exactly how advertised. He has settled in so quickly, well mannered and amazing to ride. I can tell he has had the best start in life and cant wait to bring him on.
Thankyou Gerty. 100% recommend to anyone
June 2022
Troy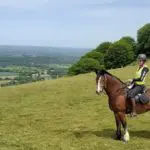 I bought Troy in 2018, after losing my nerve riding thoroughbreds. Since the day he arrived he has been the everything I wanted. I am mainly a hacker - a bit of endurance plus going on holidays, including the beach, Radnor Hills in Wales, Sherwood and Derbyshire. We went one step further last week and rode the South Downs Way from Winchester to Eastbourne - 100 miles in 5 days and Troy was brilliant. There are a lot of steep hills and he just did it, as well as being so good at gate opening. What can I say - thank you Gerty for selling him to me
June 2022
I would buy from Gerty again.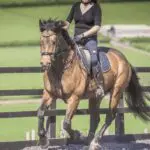 I bought a horse about a month ago from Gerty. He was bought unseen and only from the videos and photos that were placed on Gerty's website. Gerty was very informative about the horse and explained in detail what he was like. I had him vetted, and Gerty arranged all this for me and even sent me the certificate so I could get him insured ahead of travel. Gerty arranged all the transport for me and this was executed very efficiently. Teddy arrived at our home a few days later and he was exactly as he had been described to me by Gerty. He is the sweetest natured, kind horse with so much talent for dressage and jumping. He is actually much nicer looking in the flesh and his photos and videos didn't do him justice. His coat is the most stunning chocolate dun colour. So what a lovely surprise to have delivered a horse that's even more beautiful than you had thought he was going to be. Teddy is a stunning horse and we are delighted with him. I will definitely buy from Gerty again and will buy with confidence. It is lovely in this day and age to buy a horse which matches his description and is and kind, sweet and talented as his advert portrayed him to be. Thank you Gerty for selling us a cracker of a horse.
June 2022
My ish Freya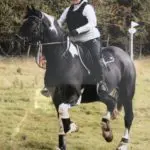 I brought my 15'2 horse Freya from Gerty last year as a 4 year old she was exactly what Gerty had said she was and more Beautiful kind natured and an absolute diamond she's never put a foot wrong I'm so pleased I brought her so thank u Gerty Tynan she truly is 1 in a million x
May 2022
A quality pony great service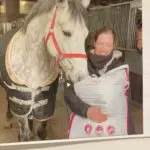 Just a word of thanks My pony is a dream come true. Colorado is everything I wanted: smart calm affectionate athletic…beautiful inside and out. I am in love with him. I heartily appreciate all your help with vetting and shipping. This was my first time bringing a horse across the pond. Best wishes from Laura Duffy USA    May 2022
5* Dealer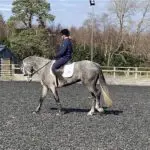 I was nervous to buy unseen from a dealer but after having some very dodgy viewings of private sales I did my research and bit the bullet. It was the best thing I did! I've had Beauty for 4 weeks now and she is the sweetest most trusting pony and everyone has fallen in love with her.
You can ask Gerty anything and she will be honest with you, just make sure you are honest with yourself of your own capabilities as she is selling quality horses and mostly quite young.
The whole process was very straightforward with Gerty arranging vetting and transport ( Eric Gillies) , which, by the way, was fantastic.
Beauty arrived in top condition and has obviously been very well handled.
I wouldn't hesitate in recommending Gerty and Irish Sport Equine if you want a truly quality horse, I'm having to stop myself checking the website and buying another 😂
April 08, 2021
Henry is everything we were promised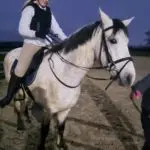 Henry arrived to us just 4 weeks ago, he has settled into the herd perfectly and so far is everything we were promised.
He is like a large dog, following us around, loving any attention.
We were kept fully upto date with transport details and informed of vetting outcome, with photographic evidence.
Any messages we sent were replied to and we even had a facetime phone call to see Henry in his environment.
We were made to feel at ease of buying a unseen horse.
Highly recommended
The photo is the first time Henry was sat on in 3 weeks and he was a star!
3/2/22
Aurora the Sweetest horse ever!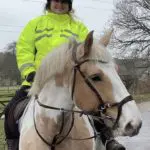 I Bought Aurora (Philomena) back in April from Gerty during Covid unseen most people say I was crazy at the time but I can honestly say this was one of the best decision I ever made and Aurora is the sweetest kindest Horse I've ever meet and I love her to bits she has a home for live, Most people can't believe she's only 5 she's so laid-back, Every one loves her and her cheeky ways. just cant thank Gerty enough.
5* Producer
I recently bought Sheldon from Gerty during lockdown, unseen and nervous of what I was doing but I have to say Sheldon is the sweetest pony I could have wished for. He's clearly been well handled and broken in nicely and is the easiest 4 year old I've ever ridden. I am so pleased with him. Thank you Gerty! We are going to have many happy years together!
January 22
The very best for Connies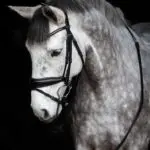 Stormzy previously Ramsey was bought from Gerty 6yrs ago! He is now 9! He has been a dream and taught a 10 yr old how to ride x
Iv just been offered 30k for him but NO amount of money could buy this horse as he is PERFECT!
He is now not only an eventer he is a family member who grew to 16hh! He does EVERYTHING for EVERYONE X
He is now modeling for Free Reins xx
Gerty knows her horses and is honest and trustworthy!
Great company to deal with!
Jen x.
First Pony (Johnny) - greetings from Dubai!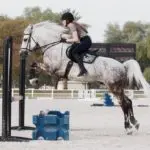 At the beginning on 2020 we decided to get me my first pony! we where reluctant as we had bought Johnny without viewing him, But Gerty was so kind and helpful and always let me ask questions about Johnny! Johnny has basically taught be everything I know from riding in a riding school to now eventing 80-90cm and hopefully higher this season! He is the most honest horse you will ever meet and he is Incredible and really loves cross country!
- Lola Cashman
August 2021, Dubai
5* Horse and Service!
I couldn't be happier with my SuperCob Nemo!!
He is my 1st horse as a novice rider I was a bit worried about buying unseen,but he is amazing for a 5 year old there is nothing that phases him .I found Gerty helpful and very easy to talk too always answered my calls and questions.
I must mention the Transport people as well amazing and professional I was updated at all times.
I am thrilled with my boy and would highly recommend Gerty and the service she provides
So happy thank you!!
Reference
I just wanted to say I bought a horse from Gerty through the lockdown unseen breaking all the rules you are told not to do. To say I was nervous was an understatement. But my horse arrived delivered by the transport company. And I am over the moon. He's everything she said and more. We have thrown everything at him. And nothing fazes him. He went over a bridge over the M4. Didn't bat an eyelid. I did ha ha. So yes i would throughly recommend them.
12 /7/21
Straight forward and honest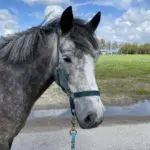 I was reluctant to buy a horse sight unseen, but due to Covid restrictions traveling to Ireland wasn't an option. I wanted a large Connemara pony for my teenage daughter. It was also important to find a safe pony with a sweet temperament because I have younger children. Gerty was spot on with her description of King (renamed Cian), he is a reliable and friendly pony.
I feel like we won the lottery! But the reality is that Gerty gave an honest description in her advertisement and our pony has proven to be just like she described. Gerty arranged the vet check and shipping for us. The entire purchase process went smoothly.
While we reside in the Netherlands, we are actually from America. Connemara ponies can be expensive and hard to find in America. I would highly recommend Irish Sport Equine to American buyers.
25/ 6 /21. Linda van Arsdale
Straight Forward knowledgeable
I'm so delighted to have bought Ross, now known as River from Irish Sport Equine. He is everything Gerty said he was. I was very nervous about buying a horse I hadn't met but there really was no need. Gerty answered all my questions fully. He is a little green, she said he was. Gerty had his temperament spot on. Her horse knowledge is superb. I am happy to recommend Irish Sport Equine, you're in excellent hands.
February 2021
Bought our second pony from you Sweet Benny now Tony the Pony as we were so pleased with Captain (Andy). Never looked back he is one hell of a character but so sweet. Too big for my 8 year old granddaughter (I knew that when I bought him) but she is able to manage him on a lead rope and my older granddaughter rides and loves him.
Gerty thank you so much for providing two such wonderful animals. We are very pleased. They turn heads every day in the yard.
Janet Clarke
Ps lovely to read Jerry's testimonial - he travelled over with Andy!
20/9/20
5* Horse and Service!
I couldn't be happier with my SuperCob Nemo!!
He is my 1st horse as a novice rider I was a bit worried about buying unseen,but he is amazing for a 5 year old there is nothing that phases him .I found Gerty helpful and very easy to talk too always answered my calls and questions.
I must mention the Transport people as well amazing and professional I was updated at all times.
I am thrilled with my boy and would highly recommend Gerty and the service she provides
So happy thank you!!
20 /9/ 20
Jerry 4 year old - Amazing pony
We had been looking for a pony for a while a mother and daughter share, I've had ponies/horses most my life and now my 7 year old daughter is keen to learn. We came across this page and after looking for a while got in touch with Gerty, I explained I was looking for a mother/daughter share and told her the ponies I had seen I was interested in, she told me that all these ponies were still available at the time but reminded me that the ones I was looking at although honest were young, so checked that I would be able to bring on a young pony, which was great and very honest of her.
We decided to go for Jerry as he was 13'2 so although still just now a bit big for my daughter she would grow into him and he's big enough for me to ride too! Because it was lock down and the travel dominoes were not operating Gerty let us put w deposit down on Jerry and kept him for us until transport was available to Scotland! He was bought over by Eric Gilles everything went smoothly and he came off the lorry a bit flustered but great.
We've not had him just over 6 weeks and he's proving to be such a lovely genuine pony and we can't wait to see what the future holds for him & my daughter, he will stand in the stable and be brushed for hours, absolutely great on the ground has amazing manners. We let him settle for a while before riding him, then got his new tack fitted and have started riding him and you would never believe he was only 4, he adapts to his rider with me he'll work beautifully and do everything I ask of him his movements are amazing, then my 7 year old beginner novice daughter can get on him and he'll slowly walk round taking great care of her on or off the lead rein! We couldn't be happier with him, and are so glad we purchased from Irish sports equine! My daughter now has a new best friend who because of him being so young still will have many years of fun with him - thank you so much!
06.09.2029
Stress free!!
I bought Saint from Gerty just over 2 months ago and I've not looked back since! Gerty & her team including the transport company was a delight to deal with. I found Gerty to be honest and true to what she says even after the 2 weeks I wasn't sure and asked for an extra week with Saint and it wasn't a problem at all Gerty said yes straight away. We've done so much in the 2 months and for a young horse I couldn't of asked for much more, so to say I'm pleased Is an understatement, I wouldn't hesitate to buy from Gerty again!
06.09.2020
AMAZING
I bought Ramsey now known as Stormzy 2 years ago! He lives at Kelsall Hill Cheshire where Michael Owen the 3 day eventer keeps his horses! I can't thank Gerty enough as this horse is one in a million! I have lessons with Mike twice a week and we should be on track for our first event next year! This horse was unseen and EVERYTHING that Gerty said he would be!
This dealer is honest and sells her horses to the very best of her knowledge!
I can't rate you guys enough!
Thank you  Jen x
September  1st 2020
Real beautiful dream horse
Hi Gerty.
We have had Bella for just over two weeks now. I have to say she has exceeded our expectations. She is everything described and more. I have to keep reminding myself that she is only four. Beautifully produced and at exactly the stage in her education that I wanted her to be. You made the whole process of buying her really straightforward. Like many people I was a little worried buying a horse unseen but I wouldn't hesitate to buy another from you. The transport guys were excellent too, keeping me informed at every step of her journey. She has settled in perfectly, is the only horse we have ever had that our other mare actually likes and has taken to her new home without breaking stride. She is such a gentle and loving horse, first to the gate and with first class manners. Thank you so much for my beautiful dream horse.
1st of September 2020
If you want quality buy from Irish Sport Equine .
We bought Lily in August 2019 for my now 13 year old daughter, we are so pleased with Lily , we have done cross country, showjumping barrel racing , dressage, bought as a five year old and she is an amazing quality pony, she really turns heads, if you want quality buy from Irish sport equine, from our experience Lily is exactly as described by Gerty, wouldn't hesitate to buy from her again, thanks Gerty .
27 June 2020
First class honest and reliable
Absolutely delighted with my lovely 5yo mare lady V aka big ears! Shes exactly as described and we adore her. The buying process was straightforward and the transporters were first class. Highly recommend
27 June 2020
We bought Andy (now known as Captain) 2weeks ago.
We are delighted with him in every way. He has a lovely temperament and although he is only 4 years old he is one of the best schooled ponies I have ever ridden. He young but he is taking everything in his stride.
He has settled really well into his new yard and we love him already.
I was nervous of buying from a video but Gerty has certainly matched us with a great pony that is just what we wanted.
I would recommend Irish Sports Equine to anyone and have already asked Gerty if she can find us a suitable second pony.
27 June 2020
Such a great Pony!
Hi Gerty, just wanted to say a big thank you, we've had Arkle 4 weeks now and he's such a good lad, genuine, willing and a great trainable temperament. He really has ticked all our boxes and my daughter adores him. Thank you, I won't hesitate in coming to you again for any future purchases. Take care and stay safe. Kristy
Friday  April 10  2020
Delightful pony
I would just like to say what a delight my new pony Robin is who I purchased of ISE a couple of weeks ago it is a big risk buying a pony unseen and only seeing them from videos, but it has been the best decision, she is everything that was said on her description and more, she has settled well into her new routine and has been an absolute pleasure to have, she will forever have a home with me. I would just like to thank Gerty for selling me such a genuine and sweet pony who really has an old head on young shoulders. I am very excited to see what the future holds for the both of us! I will definitely recommend to anyone who wants a lovely quality Irish pony/horse to come to ISE. Thank you Gerty.
15 March 2020
Perfect pony!
I am super pleased with my pony robin who I purchased of Irish sport equine a couple of days ago, she is the prettiest, sweetest pony and has settled into her new home/routine very well. Buying her unseen was very nerve racking as I have never done anything like this before but It has been the best decision. I highly recommend Irish sport equine to anyone wanting a lovely little Irish pony! Will definitely buy ponies from here in the future! ☺️
Zwei Traumponys! Two dream ponies!
Liebe Gerty, liebe Denise!
Nun sind unsere Ponys seit einem Jahr bei uns. Alle beide sind bezaubernd und sehr klug! Dieses Jahr werden sie auf Turniere gehen. Wir werden euch informieren!!! Wir hoffen, dass sie sehr, sehr alt werden - sie gehören zur Familie!
Dory, Tilli, Calli und Christian
Dear Gerty, dear Denise!
We have our two ponies now for one year. Both are absolutely amazing and very smart. We will bring them to competitions this year and we'll let you know how we're getting on. We hope our two Boys will get very very old, they belong to the family!
Dory, Tilli, Calli and Christian
Dory, Tilli, Calli und Christian February 2020
Ein rundum tolles Pferd!
Lange haben wir nach einem Pferd/Pony gesucht und nicht das Richtige gefunden, was zu uns passt. Wir sind, meine Töchter 7 und10 Jahre alt und ich. Wir haben ein Pferd gesucht, wo wir alle drauf reiten können. Durch eine sehr gute Freundin sind wir auf die Connemara Ponys gekommen. Sie selber hat auch ein Connemara aus Irland und ist jeden Tag wieder begeistert. So wurde ich dann über ehorses aufmerksam auf die Verkaufspferde von Gerty Tynan. Und war gleich begeistert. Die Videos und die Beschreibungen waren schon sehr interessant. Über Monate habe ich mir immer wieder die Verkaufsanzeigen angesehen und dann haben wir Rose gesehen. Sie gefiel uns gleich richtig gut und auch die Größe 1,58 Meter ist für uns super. Ich habe Kontakt zu Denise aufgenommen und sie hat sich Zeit genommen und meine ganzen Fragen beantwortet. Mitte Dezember habe ich dann die Anzahlung für die AKU gemacht und es war alles in Ordnung. Anfang Januar kam Rose dann zu uns. Wir waren sehr aufgeregt. Denise stand weiterhin für alle Fragen zur Verfügung. Zum Transportunternehmen hatte ich auch Kontakt und der Transport ist gut gelaufen. Rose ist für ihr Alter ( bald 5 ) zur unerschrocken und wir freuen uns täglich, dass sie da ist. Im Umgang ist sie sehr lieb. Natürlich ist sie jetzt erst fünf und muss noch einiges lernen, aber wir haben sehr gute Unterstützung und sie macht einfach alles gut mit. Ob im Gelände oder die ersten kleinen Sprünge, sie bleibt immer ausgeglichen. Ich wurde von Vielen belächelt, dass ich ein Pferd sozusagen blind kaufe, und es war auch alles sehr spannend und aufregend. Aber ich fühlte mich durch Denise sehr gut beraten. Wir haben immer Kontakt gehalten und wenn ich unsicher war, hat sie meine Fragen umgehend beantwortet. Nun freuen wir uns auf die nächsten Jahre mit Rose. Rundum ein tolles Pferd. Ich kann Gerty Tynan nur weiterempfehlen. Wir sind sehr zufrieden. Astrid
Astrid Baudewig February 2020
Perfect Pony
After much UK searching we decided on a ISE pony for our daughter and after describing what we were looking for Gerty expressed concerns he may be a little too sharp for our daughter. Having watched the video many times we'd all fallen in love and Gerty respected our decision. He arrived, was lovely, but the yard, whom we'd recently moved to, who had assured us they had year round turn-out in reality turned their horses out about 3 hours a week for 6 months of winter. All the horses were going bonkers (our pony much calmer than most) on a Saturday morning and when I discussed with Gerty she was really supportive and suggested we move the pony to another yard ASAP. We did and he was much happier having daily turnout but in the end Gerty was right - he was just a bit too much of a competition pony for our daughter. One message to Gerty and she immediately suggested we swapped him for a quieter mare. The swap could not have been easier and we now honestly have the most perfect pony for our daughter. Gerty was such a support and guided us through through the whole process with her kindness, knowledge and honesty. I would recommend anyone looking for a pony to speak to Gerty.
Great Pony
Lorckie is as described. A great pretty pony. He responds well to the aids. He is calm, honest and learns very fast. At first he was shy, but now he is confident and neighs when I come to the stable. It's fun to explore the world with him and ride him. I really like him and would buy another horse from Gerty (but my stable is full :-).
(This text will be translated automatically :-))
Dezember, 2019, Eveline, Schweiz
William was EXACTLY as described.
At the start of 2019 I faced the unexpected loss of my beautiful horse. Life never seems to go as planned 'we' were going to 'hang our boots up together'. Instead I found myself deliberating if I should give up horses after 40 plus years or establish a new relationship with a new companion! I (with the support of my long suffering partner), finally came to the conclusion it was time to find a new friend. This is where my difficult search and 'dip' into the 'horses for sale' market commenced. I had looked at Irish Sport Equine's site numerous times during my search, as Gerty had many a horse advertised that caught my eye, but, like many others, I was just not confident to purchase unseen off a website! Moving forwards eight months and having endured over 4000 miles of travel I had still not found a new friend, I had however succumbed to a significant loss of confidence. It was at that point that my partner and I decided to hop on a plane and visit the home of Irish Sport Equine! Upon arrival at the yard, Gerty was friendly, welcoming, open and honest. Gerty took the time to talk to me, and to genuinely discuss what I was looking for. This lady is an experienced horse woman and really knows her ponies – LISTEN to what she has to say. The yard is immaculate with every horse happy and well looked after. Gerty reassured me she would find me a suitable horse and would get back in touch. Weeks passed, I continued trying horses, my nerves getting more and more frayed! Then along came William! Gerty pointed out he was a youngster so I would benefit, initially, from professional support. Gerty also reassured me he was as genuine as they come. Following a vetting, which again Gerty was over-accommodating and helpful with, I made the decision to purchase my first ever 'unseen' horse! Nervous and apprehensive was an understatement! During every step of the purchase Gerty reassured me that if I was not happy with 'William' I could exchange him. Gerty arranged his transport to the UK and even obliged me by sending a video of him loading and leaving Ireland. The transport company secured by Gerty kept in touch with me and let me know progress at regular intervals. William was delivered, on time, the following day from departure looking like he had quite literally travelled a mile down the road! There were no hidden surprises. William was EXACTLY as described.
I have had William with me now for just over five weeks. Whilst we have only hacked and schooled, this boy has, so far, not put a foot wrong. I cannot recommend Irish Sport Equine enough. Just please remember if you are purchasing a young horse you are doing exactly that! William is a credit to Gerty's high standards. Thank you Gerty for one amazing honest William (the wonderful)!.
30 /10/ 2019
Best pony ever!
I like a lot of people was somewhat hesitant to purchase a horse unseen, not to mention online.
However this has turned out to be a positive and liberating experience!
Our lovely pony Mandy now Gabby is a god send!
Not only does she look after my children she takes care of my yearling also! This wee pony is worth her weight in gold, she will go past any amount of machinery, low flying army helicopters, dogs barking and all with a 5 year old child on her back! What a joy!
Gerty, if I ever need another horse or pony I will be coming to you! Pony as described and perfectly suited!
Love this bones of this wee mare she will give my children lots of fabulous memories!
Many thanks Michele xx
What a super star !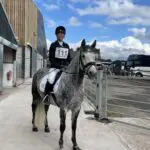 Just a quick update on the horse I bought from Gerty 4 yrs ago!
What a superstar!
Stormzy previously known as Ramsey is eventing just like Gerty predicted!
Iv been offered almost 18k for my boy however I wouldn't swap him for the world!
Gerty is a real honest horse dealer x she can not however vet potential owners !
Thank you Gerty ❤️
Jennifer Adamson
Sandstone Livery
Exactly as described
I've had Camilla for 4 weeks now and she's been brilliant. Exactly as described. Beautiful temperament and nicely off the leg, she's a dream to own. I wish all dealers could be as honest as you Gerty. I might get my daughter a pony next summer and this is the only place I will be buying from. Thank you for the lovely horse.
3rd June 2019
Exactly as described on the tin!
I bought sunshine, a beautiful 15hh Connemara from Gerty around 7 weeks ago. Gerty was very helpful and the whole process was very easy and even though I doubted buying a horse I had never seen or rode, I couldn't have made a better decision. Sunshine is a very sweet pony and exactly as described on the website.
Thanks for all of your hard work- it really does show in these lovely ponies. I will always come here for my future horses and will be my first recommendation to anyone????
29 May 2019
MOST HONEST PROFESSIONAL SELLER EVER
I bought a 16.2 Sports gelding from Gerty quite a few years ago. From start to finish the entire sales process was faultless. Gerty delivered my boy personally herself to me in Scotland. I will never part with Midnight (Ardlea Midnight Diamond) and I cannot thank Gerty enough for bringing this wonderful horse to me.
If you are looking for a great horse from an honest trustworthy seller then look no further, IRISH SPORT EQUINE is the ONLY place I recommend
16 . May 2019 .
SARAH JONES
Amazing!!
I bought Blue from Gerty a few weeks ago after selling my previous horse a couple of years ago. When I rang Gerty I was very clear that I wanted something that was sane and fairly quiet but also something that I could have fun on. She agreed that Blue would be suitable. I was initially petrified at the thought of buying a horse unseen and I watched Blues video over and over again. A few weeks later (slightly later than planned due to the equine flu) Blue arrived looking like he only done a 20 minute journey. He settled straight away and he is a pleasure to do in all ways. He was 5 this year and you would think he was 10, he is level headed, great in all kinds of traffic and a great balance between quiet but forward going. Even my non horsey boyfriend handles him on a regular basis with no problems. If you are thinking of buying from Irish Sport Equine I would say go for it! Thank-you so much Gerty!
May  2019
My lovely Irish cob
Where do I begin...I bought my horse Joy from Gerty a month ago and WOW I have not been disappointed. Gerty was very honest and wanted to see videos of my riding so I knew she cared for her horse and to who her horse was going to, she kept me in the loop the whole journey and when Joy was here in the UK I had updates and when I was told she'd be with me at 10:30 am she was with me on the dot. It was like Christmas morning as I'd only seen Joy on a video. She is stunning! You could see how well cared for really lovely. I am going through a cancer journey and Joy in the 3 weeks I have had her has given me such happiness. She is an awesome person too I just love being round her. I had my first lesson on her today and for a 5yr old did not put a foot wrong. Thank you Gerty and everyone involved in my sweet Joys welfare at Irish Sport Equine a big THANK YOU!!
13th April 2019
Two fabulous mares
What Muppet buys a horse untried? Me! Twice! I bought my super talented Vicky 'Pollard' three years ago as a general all-rounder and more recently the 'Saint' Jasmine for my 78 year old father to hack and hunt. I can't say either haven't had their moments. Pollard loves to worry and needs sensitive handling, but Gerty did make it abundantly clear she was 'not a first horse'. Jasmine on the other hand is as 'bombproof' as they come, albeit less advanced in her schooling. But, when you have two of the kindest, most honest mares who are constantly on your side and never want to argue, continuing their education is an absolute pleasure.
Both mares are as described and suitable for jobs beyond the ones they were bought for. Pollard is now going British Eventing and Jas recently won her first introductory dressage test. Thank you Gerty and your team. I wouldn't buy a horse from anyone else!
March 2019
Blue jeans
This is the first time I've ever bought a horse/pony unseen but I'm absolutely amazed !! I actually have the most perfect pony !! Blue jeans is everything Gerty said he was . The write up about him
was 100% accurate and Gerty really seems to know her ponies inside out! I'd definitely recommend Irish sport equine . I would say I'd definitely use Gerty again but I'm so thrilled with my pony I don't think i'll need to!! Thanks sooooo much
26 /3 / 2019
Amazing ponies!
In January we bought two ponies from Gerty. We had a very professional guidance to find the right ponies for our children. We were allowed to visit them and do the vetcheck, but we really didn't need to- the ponies were like being described on the phone. The recommended transportation by John Brophy was also very professional. Our ponies are easy to ride in the arena and in the forest. We really like them!!!! Thanks a lot to the whole team!
March the 4th 2019
Dory, Tilli, Calli und Christian
Beautiful Pony
Beautiful pony arrived much better than I anticipated.fionn is as described only better.what a great purchase thanks to gerty
8th February 2019
Havanna
She is a lovely pony! Apart from arriving very tucked up because of the long and delayed journey we have had not a single problem with her. I must say though that the transporters - Bramhams - were absolutely amazing and looked after her as best as they possibly could.

She is now beginning to settle and develop more of a personality as they always tend to be a bit shy and timid to begin with I find. She is super friendly and easy to deal with and very easy around other horses. She will even stay out in the field on her own if the other one comes in - I dare not even hope I might be lucky enough to end up with two ponies like that!

The girl who trains my other pony is working on her flatwork and she is looking really promising as she also is with her jumping - confident and forward but not silly or strong. Hacking on our rather busy lane she has been absolutely rock solid - including putting up with the dustbin lorry passing us five times on our first hack!

Thank you again for providing such a lovely pony and making the buying process so easy. We have changed her name to "Aoife". She will feature on our practice Facebook page as does our older one. We are Anvil Equine Vet Clinic if you want to look us up. (West Sussex - not the one in the West Country).

Thank you so much for providing a pony which is exactly as you described it!

January 2019
Badminton Grass Routes
We bought Ringo (now snicker) unseen in august 2018  from Gerty and i can honestly say he was exactly as described in his advert and over the phone.
We've never bought a horse unseen before and i was a little concerned as he was going to be for my mum who wanted something easy and quiet. He is exactly that and i would 100% go back to irish sport equine if we were looking for another.
Snicker has been an absolute superstar and hasn't put a foot wrong.
He has a temperament to die for and is easy in every way.
He jumped double clear at his first sj show and came 4th at his first hunter trial last weekend.
We're now looking forward to next season eventing where we'll be aiming to get him qualified for Badminton grass routes ?
November  2018
Ringo .
We bought Ringo (now snicker) unseen in august from Gerty and i can honestly say he was exactly as described in his advert and over the phone.
We've never bought a horse unseen before and i was a little concerned as he was going to be for my mum who wanted something easy and quiet. He is exactly that and i would 100% go back to irish sport equine if we were looking for another.
Snicker has been an absolute superstar and hasn't put a foot wrong.
He has a temperament to die for and is easy in every way.
He jumped double clear at his first sj show and came 4th at his first hunter trial last weekend.
We're now looking forward to next season eventing where we'll be aiming to get him qualified for Badminton grass routes ?
18.10.2018
He really is a superstar!!!
I bought Sean (now Rudy) in August this year. Since arriving he has settled very well and is coming on nicely and I'm absolutely delighted and totally in love with him. He's a lovely person to have around, very well mannered and kind. We've done a little bit of everything so far and he has behaved impeccably. We competed in our first hunter trial yesterday and as he is only 4 we just did the 60cm. Our aim was to do a few and see but more for the experience and day out. Well we went clear and came second!!! Really happy with how he performed and behaved, just took everything in his stride and is exactly as Gerty described. Thank you so much for matching us! he is such a perfect horse.
15/10 / 2018
Exactly as described
I bought a 3yr old from Gerty in June & I asked her to break him in before sending him over. I was scared stiff about buying "unseen" but gave it a go as the advert & videos were excellent and very clear. I paid a deposit into a UK bank and then cash on delivery to the driver. The transport company were always happy to talk to me about my worries and very reassuring. Joey arrived and settled well, has a fabulous temperament, is very easy to handle and very nicely broken in. He is exactly as described when I spoke to Gerty, and I asked a lot of questions- nothing was a trouble! I am delighted with the whole process and wouldn't hesitate to buy from her again.
October 2018
I bought Bee from Gerty in August 2017, gave her a little holiday and started working with her in October. She won her first dressage comp in November 17 and has just quietly grown in confidence and gets better and better. She is much loved and has a huge personality, always rushing around playing, she is genuine, kind and extremely clever. This year, in her first proper season competing she has won dressage, show jumping, eventing and showing. She has been to Riding Club National Champs, Trailblazers Champs, qualified for and won BCPS Eventing League Championships and also qualified for British Dressage Native Pony Champs which are coming up. She has jumped clear xc and been placed or won at every ODE I have done with her this year, despite being green, as she is so honest. She now has Pony Club team jumping to do with my daughter and then will have a well deserved rest in the winter. Not that she will be pleased about that as she loves to keep busy!! I also have another connie bought from Irish Sport Equine who is showing real talent, so hopefully he will follow in Bee's hoofprints!
7th October 2018
I want another one !
Had two brilliant ponies from Gerty. Both amazing PC ponies . Honest and trustworthy seller. I would definitely buy again when I need another . I was petrified when I pretty much bought a pony "online" but it was prob one of the best things I did ! Another pc mum also purchased from my recommendation and yest I saw them flying round the BE 90 !
28 August 2018
Secret Star
We bought Joey just before Christmas 2017 against all advise from our friends , as it's an unwritten rule never to buy a horse without seeing/sitting on it first!! Well there eating there words!! Joey is now nick named "secret star"! He has excelled in everything we have asked of him. Currently he is competing pre novice dressage, show jumping 80/90cm, hunted over winter, ODE and hacking. Joey is absolutely everything Gurty said he was. He tries his little heart out at everything, enjoys his work and loves being pampered. I would highly recommend buying from ISE and if I was ever looking for another I would defiantly ask Gurty to find me one. Thankyou Gurty and you team at ISE, Katie McNulty (Preston, Lancashire) July 2018
Fantastic
Thank you Gerty and the team at ISE for supplying Keith . The whole process from my initial email enquiry to find a big horse was very easy and from the original suggestion of Beauty and Keith we chose the latter being 16.2 and likely to grow on. We looked at all the many photos and scrutinised the video and decided to proceed with a full vetting which I am pleased to say he passed with flying colours. The vet even remarked on what a fine upstanding young horse he was.
Due to an impending holiday I asked how soon you could get him to me here in East Sussex and to my amazement he was collected the next day and arrived on my doorstep at 8 am , less than 38 hours after the vetting finished!
He arrived calm and in good condition and soon settled in. As advised on your web site, we rode him the following morning and we were shocked at how well he went. He was light in the hand and had natural carriage and outline and went sweetly in walk trot and canter. He really tried and he felt totally unspoilt which was fantastic. We finished off by hacking him round our local lanes and he met our local fox Hounds on exercise and he didn't bat an eyelid an was much admired .
In short we are incredibly grateful to have found our dream horse and had so little fuss with the whole process. We were a bit disillusioned by buying through a dealer due to being let down previously and it goes against the grain to buy a horse unseen other than video etc but I can recommend it. I would definitely buy another from Gerty and would not hesitate to recommend her to anyone. This horse is accurately described and has a lovely temperament and is better than we could have hoped for.
Thanks again Gerty.
3 august 2018
Helen wilkinson
Forever pony I being Told !
I recently purchased a pony from Gerty for my ten year old daughter- I went against all my usual beliefs and bought the pony unseen after much homework and I am so pleased I decided to take the risk - he was exactly as expected a lovely honest 5yr old Connie with a great temperament. Pony far exceeded anything we had viewed in our 6month search and although green (as expected for a 5yrold) he has taken every thing in his stride - would most certainly recommend Irish Sport Equine and would certainly use again although Woody is here forever I have been told!
28/ 7/18
Magic
I've had Magic for a few days now and I'd like to thank you from the bottom of my heart for finding me such an amazing horse. He is so friendly, so laid back and so workman like in his work. He has that amazing 'can do' attitude and just so easy and such a pleasure to have in my life. I had reservations buying 'unseen' but He's all I could of ever dreamed for and more again. I have to keep pinching myself he's actually here. He's one in a million exactly as his advert said he was. Magic has a home for life with me and it is such a privilege to have him to share life with. I won't hesitate to recommend you to anyone I speak to. My partner is that impressed with him she's looking at buying Fintan from yourself.
Thank you for finding me my new best friend Gerty.
All the best
Jan
22/06/2018
Reef
I cannot recommend Gertie highly enough.
Reef arrived safe and sound and has turned out to be everything Gertie said he was. ( Absolutely what it said on the tin !)
Reef is quiet well mannered and an absolute delight to own. Gertie came recommended by friends who had also bought horses from her. They too are lovely natured safe horses.
Thank you Gertie
We are delighted with our new chap and will keep you posted as to how we do once we start competing. 🙂
Traditional oil paintings, still life and portraits
Harry has given Phoebe a huge confidence boost and he is exactly how Gerty described him. We are very happy with our purchase and would definitely recommend using Irish Sport Equine.  8/6/18
Honest
I bought Troy in the middle of March. Although an experienced rider I had lost my nerve a bit riding ex racehorses. An old riding friend said she knew of someone who had bought from Gerty and had been very pleased. So I called, explained exactly what I wanted and needed and bought Troy. I rode him every day for several days as recommended by Gerty and I can honestly say I now have my riding mojo back. I have already taken him on a riding holiday and completed 3 endurance rides and it has been a great journey so far. I would certainly go down this route again ( although I hope now I have found the horse for me I don't have to)   8/6/ 2018
Rupert was bred by Gerty !
Rupert was bred by Gerty and what can I say he has been a horse of a lifetime! Competing at Royal Windsor Horse show, over 100 Bd points, reserve for Homes international dressage, loads of wins at Dressage! Just everything and a temperament to die for!
I would have another home bred of Gerty in a flash and when I am on the market to look for another I know where I am going!
Thank you for breeding my best friend!
13.May 2018
USA hunter/jumper competitive Show stable
We are very happy with our Irish Horses and Ponies purchased from Gerty! All are competing with us in the USA always in top ribbons. Safe and reliable every time out! Thank you so much Gerty!  May/ 7 / 2018
Thank you Irish Sport Equine
We have been buying horses from Gerty for nearly 20 years. Wimbledon Village stables is a wonderful BHS Approved riding school and livery yard in South West London. Our 25 amazing horses and ponies are much admired by everyone who sees them and with the exception of three (Jack, Pod and Minnie) who are homebred, they were all purchased from Gerty Tynan. You can see photos of them on our website and Facebook page and there are videos of them performing in musical rides, horse shows and dressage competitions. Over the years, there have also been numerous other amazing horses who have since gone on to pastures new. Our horses need to be exceptional - they must be 100 per cent in traffic to cope with double decker buses and other London traffic, safe and mannered hacking out, have gentle and willing temperaments to suit all standards of rider and, of course, be completely sound.
I cannot tell you how much pleasure Gerty's horses have given to so many people; we are so grateful to her and look forward to many more years working together to find perfect horses for our clients.
Carol Andrews
Wimbledon Village Stables
my boy is lovely
Although i was concerned about buying a horse overseas and untried i did.!!!
Well he is everything Gerty said.he was.I did go and see him before purchasing,as i just could bring myself to simply add to basket. The transport was faultless. I have bought horses in the past and been very disappointed at the untruths. If you are honest about your ability and can see the value of a kind cob beyond a winter coat, talk to Gerty!
April 2018
I can't thank you enough!
Dear Gerty, I can't thank you enough!
Ramsey, new name stormzy, has been with me now for 4 weeks and has not put a foot wrong, he is absolutely perfect in every single way! It was a big decision to buy a horse unseen over the Internet however, after talking to you over the phone and checking out your website I knew I couldn't let this little chap go to some one else! I had to have him and I'm so glad I did as he was everything you said and more even though he is only 4 yrs old!
Today we took Stormzy to a local show where he got his first 2 clear rounds in the jumping classes! What a confidence booster he is! I love this little priceless horse who has won over everyone's heart! Thank you again x
Jennifer Adamson
22/04/2018
my boy is lovely
Although i was concerned about buying a horse overseas and untried i did.!!!
Well he is everything Gerty said.he was.I did go and see him before purchasing,as i just could bring myself to simply add to basket. The transport was faultless. I have bought horses in the past and been very disappointed at the untruths. If you are honest about your ability and can see the value of a kind cob beyond a winter coat, talk to Gerty!
I bought Golden Dancer, now Daniel, in August 2016 as a four year old. It is obvious that he was started very well: we have been out for XC, SJ, Dressage, fun rides and he has never put a foot wrong. Very happy that we decided to buy from ISE!
22/03/2018
Perfect Horse!
We bought a horse this week and have already had so much fun on him. I was looking for something forward going but safe, Arthur has totally proven to be so! We hunted this weekend and jumped dykes and rails!
Would definitely recommend Gerty to anyone looking.
10/02/2018
I never thought for one moment I would buy unseen online but I am now so glad I did. I had a long list of things I was looking for in my next pony and I watched Cocos video over and over again and also spoke to Gerty who was very helpful and understanding. My friend joked saying we will laugh about this one day and yes we do now as Coco has brought us much happiness. He is the most affectionate pony we have ever had. I never wanted to do jumping but Coco loves it so he has given me the confidence to try. We have done a bit of everything and he also does well in dressage and he loves cross country. Everything went smoothly from buying to Coco arriving safely. Thank you!
Perfect Match
Like many people, I was sceptical about buying online, untried and unseen. Most people thought I was taking a big risk and I admit to feeling nervous, but after failed viewings close to home, we'd almost given up. Then a friend recommended IrishSport Equine and we were addicted to looking at all the horses online! We saw Mary, watched her video lots of times and decided that she could be a match. After speaking to Gerty and emailing lots of questions, we took the plunge. Mary arrived nearly a year ago and we haven't looked back. She took awhile to settle and we had some fleeting moments where I thought i'd made a bad decision, but she has been absolutely amazing overall. She has never put a foot wrong and she has safely carried my 15 year old daughter around x-country courses, show jump arenas and across open plains. They stayed at riding club camp winning the jumping classes and had lots of fun through the summer. Mary is with us for life, but if I had to buy again I would definitely come back to Gerty.
Love my new horse
I was a little nervous to buy my first horse sight unseen (and probably crazy) but I have to say Vinny is everything I was hoping for and more. He truly is one in a million and has already become a barn favorite. He has a very mellow attitude and always tries his best. He is very forward and fun but not silly or strong. I've had him for 2 months now and I really could t imagine life without him. He is honest to the fence, loves hacking, and gets along well with he other horses. He is a very special
Guy and I feel lucky to call him my own.
One in a Million
Spent months looking for a horse (and met some very dodgy people too) I had spotted the Irish Sport Equine website weeks earlier. And just like everyone else, the thought of buying unseen seemed such a massive risk that I was very reluctant to go there. I really shouldn't of worried. One evening I saw the video of my beautiful boy and that was it. I rang Gerty, had a good conversation about our suitability and put a deposit down there and then. Had the vets check done and 7 days later he was here. Omg! He was far better than I could ever have imagined. I cannot recommend Gerty highly enough.Just take the plunge and trust her. Then you too can have your very own 'one in a million'. Thank you Gerty. Long may your outstanding business prosper.
Perfect match
After looking for ponies and horses for months and months, loosing my confidence in finding the right pony for me and in private sales, we started thinking about dealers. For a few weeks on and off I researched about dealers in England but as none were up to a good standard, I found a recommended dealer in Ireland. But as this was my first pony I thought it was a bad idea to buy a horse unseen, but we were getting nowhere with private sales, so we researched Irish Sport Equine and decided to give Gerty a call. We told her exactly what we were looking for with a thought in our minds that she would say that what we were looking for was thin on the ground and unavailable, however she recommended three horses to us, I was spoilt for choice and couldn't decide! However after one full day of deciding we narrowed it down to two ponies. We called Gerty and out of the two ponies, Rum was most suited to me. A vet check was then arranged and after 1 week and a half, he arrived at our yard in a huge horse box. As our yard was too small to allow the box to enter, we resulted to off loading onto the quiet road, Rum off loaded like a dream as well as the pony in front of him. I then lead him onto the yard and into his stable. He was fairly nervous and on edge like all new horses are but after 2 days he was so settled and we all just fell in love with him. I've had him for 5 days and he is exactly what Gerty told us he would be and more, I love him so much and I'm so glad we waited because he truly is the perfect horse for me. Gerty really has a nack for finding the right horse for you. I would recommend Irish Sport Equine to anyone everywhere as it really is an amazing place with amazing horses.
Efficient fair and extremely helpful
Like everyone else i was sceptical about buying unseen untried and not vetted, i bit bullet and decided to buy brandy when he arrived after his long journey and came off the lorry i was delighted with what i saw he was obviously tierd but he was calm and laid back , i took him home. The next day i rode him round the local tracks and fields and he was just perfect and as described from them until now he hasnt changed. I would highly recommend and if like me your unsure go for it im sure you wont be disappointed. He has even just won his dressage test. Thanks gerty
True to her word Gerty exchanged for a prefect match ?
Being fairly new to this. I was recommended Irish Sport Equine by a friend. I watched a video we call Gerty who was very helpful and I decided to purchase the horse. He arrived and I decided he wasn't a good match for me after an agreed trial period. Gerty was very helpful and he was returned. After a number of discussions, Gerty was true to her word and found me the perfect match "Big Tom a 17hh, 9yrs handsome Irish Sport Horse ". I am delighted with him.
He was hacked out by my inexperienced Children within the first week of arrival. I couldn't have asked for more in Tom, he has the sweetest nature, a delightful character and has settled in very well. Thanks Gerty for the Professional Helpful Service you are highly recommended.
Cheers Gillian Horsfield
I never thought for one moment I would buy unseen on line !!
I never thought for one moment I would buy unseen online but I am now so glad I did. I had a long list of things I was looking for in my next pony and I watched Cocos video over and over again and also spoke to Gerty who was very helpful and understanding. My friend joked saying we will laugh about this one day and yes we do now as Coco has brought us much happiness. He is the most affectionate pony we have ever had. I never wanted to do jumping but Coco loves it so he has given me the confidence to try. We have done a bit of everything and he also does well in dressage and he loves cross country. Everything went smoothly from buying to Coco arriving safely. Thank you!
Ali's story
Ali arrived with new shoes, delivered by professional transporters who took great care to give a calm journey for their cargo. Efficient and caring service.
Ali is everything and more that Gerty described. No surprises a genuine and honest young mare with heaps of ability. There are no issues to iron out, a soft mouth, forward going but responsive to leg and seat - a pleasure to sit on and a temporament that wants to learn.
Five days now and following Gerty's advice of regular exercise Ali has completed schooling in and outdoor, jumping all clear and hacking alone and in company on roads and through country.
Ali has had a good break in and initial training which has set her up for her new eventing career. It will only be amateur pre novice stuff but Gerty and her team have given her a secure and safe education.
I have complete faith in Gerty Tynan and wish her ongoing success. I would not look anywhere else for a horse. Gerty listens to what you are looking for, takes note of your abilities and provides the right horse to suit the jockey. I am nearly 60 and know when to trust someone and give them respect and this is what I give Gerty and my thanks.
Fatastic
After losing my confidence on a previously purchased horse from a private home, the thought of looking again filled me with dread! I found Irish Sport Equine while searching and thought let's see. I have now owned Little Daisy for 6 months and I'm so happy with her! Everything Gerty said she would be and more! Matched perfectly, I have found her not to be a problem with anything, jabs, worming, shoeing, traffic, fantastic. Excellent to deal with, reassured me at every step, Wexford transport also brilliant! I would recommend Gerty to anyone! It can feel unsettling buying unseen but with Gerty's reassurance, excellent videos and the exchange promise I went for it and so glad I did!
I found Zoe on Gerty's website. I liked the look of her and the way she rode and decided to put a deposit down straight away. Whilst waiting for Zoe to arrive I thought what have I done! She arrived in good hands and I rode her the next day and never regretted putting that deposit down for a minute! She's a one in a million horse,thanks Gerty's you have some stunning horses, and your as honest as the days long with describing them! (Posted: 15/05/17)
100% Sold as Described
Like many others I never thought that I'd buy a horse unseen. A friend showed me Gertys website, I took what felt like a gamble at the time, and the rest is history!
Initially I was interested in another horse, but I rang Gerty, described what I wanted and she recommended Jasper.
The whole process was smooth and efficient. I've had Jasper 4 months now and we've had so much fun.
He is everything Gerty has said he would be and more. Safe, sane, sensible, well mannered and taken everything in his stride. We've been out on fun rides, XC, Show jumping, dressage, combined training and stay away shows. Much more than I'd have expected from a 6 year old.
I am really looking forward to the rest of 2017 with him - thank you Gerty for such a fantastic fun horse.
I would highly recommend Irish Sport Equine to anyone looking for a new horse.
Thank you Gerty for finding us the most super pony.
I was nervous at buying a pony for my 10 year old daughter untried. She is everything you described and more. It has only been a week but we've already been show jumping and xc training as you recommended.
I can tell this partnership will only grow and we are all looking forward to a successful 2017.
I will be recommending you very highly to all my friends and will be ringing you when we need the next one (hopefully not for a good few years!)
The picture attached is of our xc training after only one week !
Im very impressed with the website giving great videos which is great, when buying the right pony. The whole procedure was very easy, and the communication, and transport was excellent in every way. I would highly recommend Gerty and her quality ponies/horses. We are extremely happy with Sky, his proved to be a little gem, and my daughter has been doing well showing him at in hand competitions.
Thank you Gerty
Karen & Sophie Pryce
Amy
We bought Amy for our daughter without seeing her, Gerty sent several emails to us and was quite honest with her description of the pony.  Amy arrived on the transporter and the two young men were very efficient and friendly.  Amy has been here now approx 4 weeks and has settled in well, our daughter who is a novice rider is now hacking her out in her own, and is progressing well in the school, no vices as described, only problem we have had is that she jumps out of the school when put in there to muck out, a genuine pony who will hopefully be with us for many years.
My 'one in a million'
Before buying Vicky, I had a hunting pony that had been recommended by a friend. I tried him….hacked him up a busy bypass, rode across open fields, cantered, jumped and worked him in the school. When collecting him, I was a little concerned when the Chifney came out…..but that was the least of my troubles. After 3 days at home he started to nap. Day 4, he wouldn't leave the yard. Day 5, he pinned me in the stable. Day 7, I was in hospital with a broken arm. So where do you go after such an experience....you buy a horse that you've never sat on, from someone you don't know, from a country you have only visited on a handful of occasions!
I saw Vicky advertised on Horse Quest. She was everything I wasn't looking for. A coloured, cob, mare! But I was so taken with her video and, after a long conversation with Gerty, I put my name on her.
After a week of sleepless nights, nose bleeds and hoping she'd fail the vet, Vicky (now called Vicky Pollard, on account of her chunkiness) arrived. I can't exactly say it was love at first sight. Stabled next to my L.W. 15.2hh T.B. she did look a thumping great lump. I felt compelled to wear a bum sticker saying "my other horse is a thoroughbred". But despite Gerty telling me she was not a first horse, she has given me my confidence back. She is a poppet to hack; HGV's, trains, roadworks, traffic lights, pneumatic drills, even crisp packets and pigeons (yes, "my other horse is a thoroughbred"). My 77 year old father has hacked her out on a loose rein and I have led my boy from her. She is an absolute workhorse, has loads of presence on the flat and loves her jumping. She's not without her quirks. She's a sensitive mare and we've had a few nerve related moments, but considerate handling has seen her grow in confidence and our bond develop. She never says NO.
So after exactly 12 months with me I can safely say Vicky Pollard is everything I was looking for AND MORE. She is a credit to Gerty and her team and I'm a coloured cob convert.
I could wax lyrical about Pollard all night, but what about Irish Sport Equine? In a world where we tend to turn the simple into a three act play, the daunting process of buying a horse was made easy; from the production of a comprehensive video to the professionalism of the hauliers. Lucky? Maybe! But if I ever need a new steed, Irish Sport Equine would be my first port of call.
Ultra Professional
Got my connie from Gerty 3 weeks ago; never thought I would buy a horse this way. I found Gerty and the transport people (Eric Ghillie) super-professional and made the whole process easy and seamless. I am over the moon with the horse who is exactly as described. Wish I had discovered Gerty years ago; could have saved myself a lot of money/heartache and broken bones(!)buying the wrong horse(s). Would definitely recommend/definitely be back if I am looking to buy again (though my new boy has a home for life).
Highly recommended
I would highly recommend purchasing a horse from Gerty. I took the plunge in September 2016 and decided to purchase Silver a 15.2 Conemara. I have to say I have not looked back!!! He is a very sweet natured little man who always gives 100%. When he arrived he took a week or so to settle however he is now most definitely part of the family. We have been working on his flat work and look forward to an enjoyable season now in 2017. Thank you for everything.
Highly recommend
I saw an advert for a 14.2 dun mare and really liked the look of her. Then looked at the website. I would never think to buy without seeing a pony first but after having a chat on the phone to Gerty I thought she sounded like a perfect match for my 12 year old daughter. She is everything that Gerty described and we have been really pleased with her. She has such a lovely attitude to look after and to ride.
I would recommend buying a horse from Gerty.
Irish Sport Equine Pony
In January 2016 I was looking for a pony to join us at home and live alongside my son's pony. I wanted a super safe gelding who would be suitable as a mother and son share. I'd had a bad experience with a previous pony and so buying un tested off a website was a complete leap of faith ! I watched the video for Ardlea Pumpkin and read his review and he appealed to me instantly. I emailed Gerty and then we spoke on the phone several times and she was very sympathetic to my worries and assured me he was a lovely pony. Gerty arranged a five stage vetting and I decided that I would have him ! We have now had Pumpkin for a year and what a fantastic year it has been, I hack him out alone and with my son, he has a real 'can do ' attitude and is very keen to please. He has excelled at dressage and we have had numerous wins including championship classes at Hickstead. He has competed in showjumping , one day events, combine training and recently arena eventing. He is a joy to own, easy to handle and we all could not love him more !
Thank you Gerty
I contacted Gerty after searching endlessly for a pony that would suit my children and I . I came across Irish Sports Equine on Facebook and after reading all the testimonials , got in contact . I explained to Gerty I was a novice rider and needed a calm , easy going pony , that was well schooled and liked to hack out and have fun . Cornflake ( We call her Flake ) is 5 and a half , really pretty and is exactly as Gery described . My girls and I have completely fallen in love with her and ride her every day . She was vetted in Ireland and brought over to the Uk , everything is done for you ! Thoroughly recommend Irish sports equine .Thank you Gerty !
Honest, Proffessional, Exceptional, Amazing
I have recently 1 week ago, had the pleasure of receiving our new horse/pony Tasty Mel who is now called Henry. I would recommend whole heartedly that anyone intending on buying a pony/horse buy one from Gerty. He was vetted in Ireland which I organised and delivered 2 weeks later. She took him for me to get vetted. I had never met him only in videos and pictures. He is amazing and has coped well with all aspects his travelling, his new home the different noises and language and accent. He is now being schooled and excercised daily and has been out on our busy Manchester roads. He has been clipped with no bother and Gerty was honest to tell me he doesn't like the farrier and his feet being messed with. He is getting used to this slowly and has done amazingly well. We are so pleased with our purchase and would recommend Gerty without a doubt. She kept in contact throughout the process and was their to answer all my worries. We now own a fantastic pony/horse. Thanks so much James
Extremely knowledgeable with fantastic eye for a horse
We bought Max unseen from Gerty in October 2016 after we couldn't find what we were looking for in the South East of England. It was very unnerving to buy unseen and many people advised not to. But a couple of friends had bought from Gerty and based on the extensive video of Max and numerous phone calls and e mails I made to Gerty I just had a sense that this was the pony for us. We have had Max 6 weeks at the time of writing this. The stand out thing about him is his amazing temperament and that I completely trust him with my 10 year daughter. And she already completely loves him and they are developing an amazing bond. We have a winter of lessons, pony club rallies, schooling rounds and clinics planned before starting the pony club eventing season in the spring so the timing is perfect. Not only is Max very good and steady at the low level stuff he also has a lot of jump and talent in him that we can tap into as my daughter progresses so he's going to be with us a long time. Max is a very special pony and we feel very privileged to have him. Thanks for your support Gerty and for your amazing eye for a good pony!!
Irish sport horse
II was looking for a good looking gelding but importantly a horse with a kind nature. Roger is everything you have said and much more. I had lost my confidence and Roger has accepted all by bad nervous errors until I felt got myself back on track. Thank you Gerty..
Tracey hall
My Dream Horse
If you had told me a few months ago that I would buy a horse off the internet without even trying him I would have said you were mad!! However, after watching the video of Sam so many times, I decided to call Gerty. We had a long chat and she assured me he was everything I was looking for (something gentle, quiet and kind). Gerty also told me to speak to one of her other clients, which I did and that really put my mind at rest. So I bought Sam, and I absolutely love him, he is everything I wanted in a horse. I would definitely recommend Irish Sport Equine, Gerty made the whole purchase and transport process so easy.
2 superb mares
We live in Switzerland and bought two horses from Gerty - unseen! Both mares are exactly like she described them on her webpage. Two so cool and lovely mares! Rosie is now 10 months with us and she's making us happy every day! Although she's only five years old even my 9 year old daughter can hack out with her easily. She is safe but also fun and very forward going. Fanta just arrived a few weeks before but she's one of the easiest and coolest horse in our stable already. We will and would buy a horse from Gerty again anytime!
I saw an advert for a 14.2 dun mare and really liked the look of her. Then looked at the website. I would never think to buy without seeing a pony first but after having a chat on the phone to Gerty I thought she sounded like a perfect match for my 12 year old daughter. She is everthing that Gerty described and we have been really pleased with her. She has such a lovely attitude to look after and to ride.
I would recommend buying a horse from Gerty.
My perfect match
I knew I wanted a dun Connemara and after a quick search online I came across Gerty's website. I saw a few of her videos and was instantly taken with the way she sells, the extensive video and the exchange policy. Against everyone's advice I bought Freddie unseen as a just turned 4 year old. He was exactly as described. He was green, what 4 year old isn't? But he is safe, honest, and most importantly we have had so much fun in just 15 months together. I hope to event him next year and I don't think he'll disappoint. Wouldn't hesitate to go back to Gerty in the future.
Gerty is the perfect matchmaker ?
If your looking for a perfect match go to Gerty I was ready to give up after a bad fall last year I couldn't find anything to match my old boy had lots of "unsuitables", now thanks to Irish Sport Equine and Gerty I have another perfect boy, a million thanks is not enough
I bought my boy from Gerty a year ago and haven't looked back! He is my dream horse a one in a million ! I'm from London so never came to see him I had only seen the pictures and video of him but knew he was worth taking the chance for as I would never had brought a horse with out viewing it ! But he was worth the risk all day long and I would only come to Gerty for another horse as I compleatly trust her to find the perfect one . We compete every weekend and always coming home with red ribbons . I cannot thank Gerty enough for reassuring me and giving me the best horse I could of ever wished for !
Fantastic horses and cobs
I found Gertie's website after wasting a huge amount of time searching for safe riding horses for valuable clients.  We were also desperate to replace popular riding school horses and I cannot speak too highly of the fantastic horses and cobs which have arrived from Ireland. I have only very happy customers and only recently received a large bouquet of flowers from France from a very happy first time horse owner all thanks to Gertie. On a personal level I have been in business for over fourty years and am pleased to work closely with Gertie whose horses are everything she described them as if not better !!
The perfect horse
Searching long and hard for the 'perfect' horse, which in my head was a 16.3hh Dutch Warmblood. I became so disappointed that every horse I tried was not as described and I then came across Gerty's site on Horsequest. After a whole night of watching all the unedited videos of the current horses for sale , I phoned Gerty first thing in the morning. After a long chat she thought Sweetie would match me really well and also happened to be the cheapest! Much to my husbands delight! I was a bit worried about buying without trying and spent hours online searching for anything negative about Irish Sport Equine and couldn't find one negative comment! That confirmed in my head that I would take a gamble and Orla (as we later named her) arrived and has been 'as described' since arriving in the UK 6 months ago. After a 6 year break from riding, she's brought on my confidence and we've been on many fun rides, on holiday, and explored most of Somerset together. Couldn't have bought a better horse. I then recommend ISE to my friend who went on to buy a lovely boy who again has been completely sane and lots of fun. Thank you Gerty for finding my forever horse.
Found a great pony at Irish Sport Equine
I bought a 14.2 Connemara cross gelding in 2015 having only viewed him on the website and briefly emailed Gerty with a few questions. He has proved to be a very well behaved pony in the stable, to clip, bath, catch, in traffic, everything as they said. He rides well and is well behaved with others too. I have ridden for a number of years so am experienced. If you are not then I would suggest getting advice about what would suit you. You need to be honest about your experience to make sure you are matched to something suitable.
Fantastic service fantastic horses
I bought my Hero in September 2014, he was everything Gerty said he was, fantstic temperment fantastic horse, my experience with Gerty was proffesional and friendly, Gerty listened to my life story and all my he must be, his must nots lol and she recommended Hero, sooo very happy with the service and horse i got! So much so 4 of my friends have bought horses from Gerty! One very happy lady, thank you Gerty, love Julia Merriman