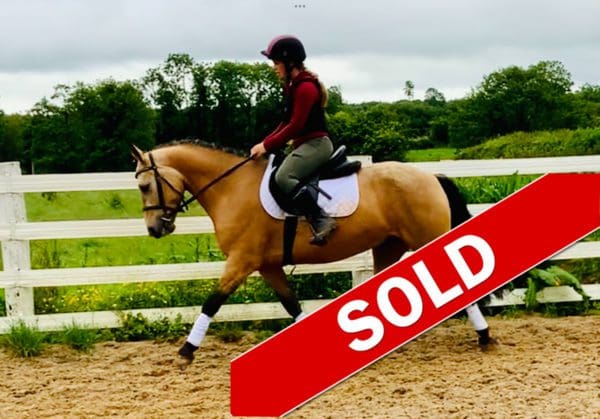 Alex – Class 1 dun Gelding!
Stunning Class 1 gelding, super pretty old fashioned type, easy and quiet, super mother daughter share!
Alex is a 4 year old purebred Connemara gelding, he is measured in at 147cm this year, he is a class 1 gelding, idea for Connmeara showing or working hunter classes.
Alex is super pretty, he is a gorgeous Pony which will go far in the future!
He is very quiet and never strong. Ideal for a novice rider!
He is a proper model, a true Connemara with all the right attributes, he is a leg in each corner type pony, he is sweet and friendly.
He is ridden here by novice students.
He has full recorded breeding, his Sire is no other than Ross Fear Buí. A top stallion who produces amazing ponies and horses which are sold for record prices!
Mullingar Equestrian Centre's sale was well supported and returned a top price of €20,600 for a five-year-old pony by Ross Fear Bui.
Alex' Dam is Abbeyfield Beauty by Abbeyleix Owen.
The fact that Alex is a class 1 Connemara makes him more than suitable for showing, he has great HOYS potential!
He has a lot of potential to jump, he loose jumps easily over 1.10m, he should make an ideal working hunter, he has a lot of ability.
He loves Cross Country, he is honest and takes everything in his stride.
It is very hard to find a pony like Alex, he is a stunning model, a one in a million!
He has no stable vices and is open for any vetting.
Price includes delivery to your yard in UK.
Exchange if you're not happy.
Scroll down to look at his video and call me anytime 00353868077626 or email me [email protected]
To enquire about this horse please call us using the "Please Call to Enquire" button below or fill in the 'Product Enquiry' form in the tab below