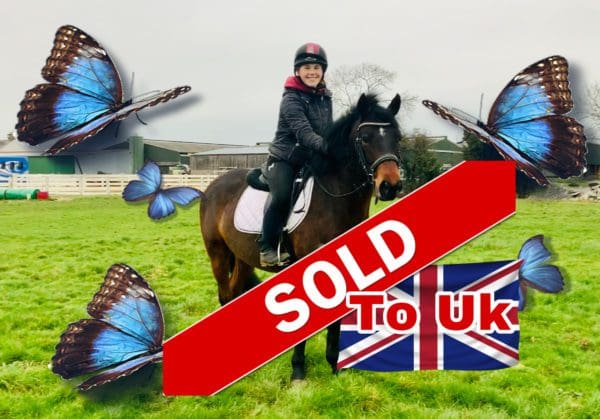 Harvey – pretty riding club pony!
Gorgeous gelding with all the quality a riding club pony needs!
Harvey is a 5 year old purebred Connemara gelding, 14.2hh and growing.
He is a stunning model and could make a super working hunter or show pony, he has a kind nature and should suit a mother daughter share, he should be ideal for pony club activities.
Harvey has hunted once, he is easy to ride, he hacks out, alone or in company and is good in traffic and open spaces.
He is a nice and straight mover, he has a good jump, he proved himself to be honest, straight forward and he loves jumping.
He will jump a course of fences, he has jumped up to 1 meter here, he is brave at cross country and takes everything in his stride.
Harvey is a super pony, he is easy and quiet to ride.
He is a purebred Connemara with top bloodlines, his Sire is Killaloe Buachaill Mór.
Killaloe Buachaill Mor is a 148cm Class 1 connemara.

156 SJI Points.

His sire is Templebready Fear Bui who needs no introduction.

His dam is a Premier Broodmare Killaloe Angel by Ashfield Festy, granddam is by Ashfield Alex.
His Dam is Shanbally Princess by Glencarrig Prince.
Glencarrig Prince (1073) was one of the outstanding stallions of the last 20 years. By Cloonisle Cashel, he is a Red Line stallion coming down from a top line that includes some of the best in Dun Lorenzo and Abbeyleix Owen. He had, however, much more of Carna Bobby blood than of any of the above and looked a real Carna Bobby type pony. Beautifully bred he also bred beautifully. He was Junior Champion in 2000 and Supreme in 2003 for owner breeder Gearoid Curran. Rose of Killola, Carna Dolly, Windy, and the influential Callowfeenish Dolly are some of the wonderful mares in his backbreeding. A special, perfectly proportioned pony that left his mark.
Harvey is a real beauty, inside and out!
He is good to shoe, box, catch, clip, ride and in traffic.
Harvey has no stable vices and is open for any vetting.
Scroll down to look at his video and call me anytime 00353868077626 or email me [email protected]
To enquire about this horse please call us using the "Please Call to Enquire" button below or fill in the 'Product Enquiry' form in the tab below